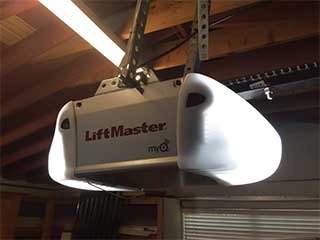 It is a fact that chain drive garage door openers have been around longer than the other drive types available. Below we run through how these systems work in a bit more detail.
How Chain Drives Operate
The motor unit houses the motor, as its name reveals. It is installed on the ceiling at a certain distance away from the door so that it can move vertically and then horizontally.
A rail holding the drive chain connects the motor unit to the wall above the door. The chain is connected to the motor via a set of gears and a sprocket which all sit inside the unit. There is a trolley attached to it and to the door via a moving arm. When the motor runs, it transfers power from the gears to the chain so that it can run inside the rail in one direction for opening the door and in the other for closing it. This is how the trolley is driven back and forth along the rail and facilitates the movement of the automatic garage door.
Pros & Cons Of Chain-Drives
The type of chain used for making openers is very similar to that of a bicycle's - it is made from steel and it is also very strong. This translates into greater durability for the entire opener. In fact, chain drive units are considered to be the most reliable and durable compared to their belt and screw drive counterparts. They can work well in any weather and all they require is lubrication maintenance from time to time. For top performance, you need to lubricate the chain and the areas where the rail and trolley come in to contact with one another.
Perhaps the only downside of chain drive openers is that they can be noisy. They tend to produce more noise than their counterparts and this makes them best suited for detached garages or ones which don't have bedrooms above them. In general, regular lubrication with a specially formulated product will help to keep noise levels down.
Horsepower, Features & Accessories
The first thing you need to check when planning a new opener installation is how powerful the device has to be. This depends on the size and weight of your overhead door. When it comes to features, chain drive openers offer huge diversity. You can select between an AC and DC motors - the latter usually offers a smoother start and often quieter operation.
When it comes to security features, rolling code technology has become standard. You can also opt for a feature which prevents the opener from receiving signals from remotes when turned on. It is also possible to get a chain drive unit which can be connected to the internet and operated via a mobile app. Battery backup is usually offered optionally. While all openers come with a pair of safety sensors and one or two standard remote controls, you can choose from other types of accessories including control panels and wireless keypads.