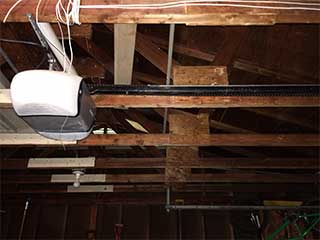 It's easy to take the automatic opening and closing of your garage door for granted. That is, until it doesn't work properly. If your opener suddenly fails, this can lead to a rage-fueled moment, especially if you're completely unable to get in or out of your garage. Don't stress, we have the answers to this mess.
Remote Control On Strike
Who doesn't love to show off by pressing their garage door remote from a mile away so that 'poof!' their door is already open by the time they arrive home? Okay, maybe not a mile, but this automatic functionality does save a lot of time and provide a whole load of convenience. But what if you press the button one day and your remote control does nothing? When this happens, the remote control usually gets the blame. While this can be the problem, it might also be that the opener antenna is pointed in the wrong direction, or that re-programming is in order. If you've tried to change the remote batteries and no result, don't go tampering with the unit yourself as this could cause further damage. Our expert technicians are here with the know-how to repair the issue.
Opener Wall Control Unit Does Nothing
If your opener wall-switch doesn't respond in addition to the remote, it is a good idea to check whether or not the lockout mode has inadvertently been switched on – your manual will have more information on this or we can help you troubleshoot. If this is not the problem, it may be that you have an underlying electrical fault or a worn out motor gear on your hands. Don't go batty trying to troubleshoot and fix this yourself - instead, choose our reliable technicians and watch the opener fault simply disappear.
The Holy Trio Of Mechanical Systems
The three main garage opener types all have their pros and cons. Chain drive systems mechanically move a trolley using a chain drive to open or close the door and tend to be noisy (however they're a great way to keep out of trouble when on the lookout for a parent or spouse ;)). Belt drive systems are quieter compared to the others, but can be a bit pricey. Finally, screw drive systems use fewer components and generally require less in terms of maintenance. The best part? Our skilled technicians can handle any of these opener types. We're here to resolve any problems you're dealing with, and can install your new system for you if you're in need of a replacement.
Contact our team at Garage Door Repair Dallas for valuable and reliable opener services today.
Need more? We also provide:
Genie Garage Door Openers
Oil Tempered Torsion Springs
Part Replacement & Lubrication
Garage Door Off Track Repair