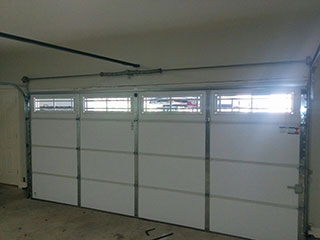 When your springs fail, this will leave your door immobile and you'll no longer be able to open and close it. The only solution in this case is to replace the defective spring. However, in a very tightly-wound system, any wrong step can be dangerous. If you're dealing with a broken spring, put your system in the hands of our skilled technicians rather than risk your own safety.
Let's Talk Extension & Torsion
Garage doors keep things simple with just two broad kinds of spring. You'll either be dealing with a torsion spring, found above the garage door with a shaft, or a set of extension springs, which are smaller in size and located each side of the door. Both types enable the lifting and lowering of your door, so if they give way you'll have a non-functional door on your hands until repaired. Regardless of the type your system uses, our technicians have the replacement parts needed to get your door working again.
Tense Springs Inciting Fear
Spring tension is the most important aspect of their functionality. If a spring is compressed or extended beyond its limit, it just doesn't care anymore and stops working as it should. When this happens to a garage door spring, the weight they carry becomes too much and the door can slam shut without warning. That shudder of fear that just coursed through you? Leave that anxiety behind with our specialists!
Spring Break – No Laughing Matter!
Spring break may be a fun time for some, but when a garage door's springs break, no one's laughing. Doors may stop opening after a couple of inches, they may suddenly unwind and break, or the door may just fall down with a loud, terrifying, crash. Avoid these mishaps with our incredible team of skilled technicians, we can help you keep your springs well maintained and adjusted so this hopefully never happens. If it does, we're here to get our hands dirty so you don't have to.
Contact us at Garage Door Repair Dallas for quality repairs every time!
Count on us when it comes to:
Genie & Liftmaster Opener Services
Garage Door Troubleshooting Services
Galvanized Torsion Spring Installation
Garage Door Opener Track Maintenance