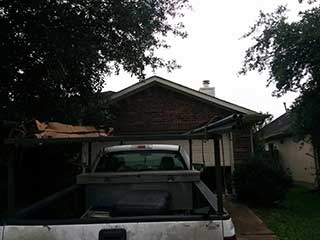 In an ideal world, your garage door would never need repairs. In reality, unforeseen mishaps and general wear and tear can cause doors to give up the ghost. Home repairs aren't the answer to this problem; this often results in more damage to the door and can lead to injury.
When Lift Cables Are Worn
There's a cable drum choked by a wire and connected to the bottom of the garage door that has an important job – moving the door up and down. With such a heavy load to bear, it's no wonder the cable is susceptible to shredding little-by-little. Over time, this can lead your garage door to rest unevenly, and potentially refuse to open and close. You shouldn't try to tackle your door's attitude problem yourself, as forced motion can weaken the connection between the drum and the door, increasing the risk of damage and injury. Instead, our expert technicians can soothe the cables back into good working order or replace them if necessary.
The Problem With Misaligned Tracks
A garage door's metal track can become troublesome over time as gaps form between the rails and rollers the door runs on. This is usually a sign of misalignment which can cause problems with the operation fairly quickly – even a slight misalignment can result in your door suddenly stopping or jerking. Our skilled technicians can get things back in line for you before things become worse.
Artificially Intelligent Doors
Though Skynet might have the monopoly on sentient artificial intelligence, there are times your garage door system seems to develop a mind of its own. It will open and close without your consent, leaving you to wonder if your garage is haunted. It's more likely an internal wiring issue, so before you go bonkers and hire a medium, check with our technicians. We are the only crystal ball you need for a quality repair, and we're ready to get to work right now.
Contact our local technicians at Garage Door Repair Dallas for the most efficient service there is in your area!
We also offer:
Roll Up Garage Door Services
Garage Door Tune Up Services
Opener Sensor Replacement
Overhead Door Installation