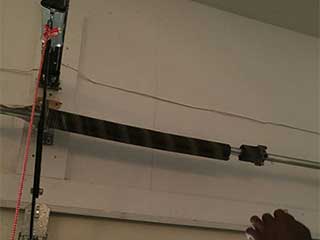 All mechanical systems work better when properly maintained, and this is no different when it comes to garage doors. Preventative measures are the key to keeping your door in great working order and staving off malfunctions. To help you be proactive instead of reactive, our technicians are here to handle any garage door maintenance requirement you have.
A Tense Situation
If you think your life is tense, then you wouldn't want to be a garage door system. The lift cables take on quite a bit of pressure with each movement and need consistent checking for any wear and tear. Here's the thing, if the cables become loose, this could also be a sign of a failing spring, that the door is out of balance, or that the door is coming off its track. Don't leave your garage door cables out of work - our expert technicians can make sure they remain at high tension, and uncover any underlying problems before they turn into more costly repairs.
Ready For Any Weather
Just like your cables need regular check-ups, you should consider the beating your garage door takes with the changing weather over the course of a year. They're exposed to the elements day and night. As hard as they try, most garage doors aren't completely sealed, but there are ways to improve this. Our expert technicians can make sure your door is as weather-proofed as possible and limit the chance of energy escape through the garage.
Getting In There With The Grease
Proper lubrication keeps mechanical systems like your garage door in a constant happy place. Greasing the hinges and screws of your system will help improve its long-term life and maintain its tip-top performance. You don't have to lift a finger to do this yourself either. Let our technicians keep your garage door running smoothly and noiselessly.
Contact us at Garage Door Repair Dallas for the great quality preventative maintenance – we'll be glad to hear from you!
But wait, there's more! We also offer:
Bent Garage Door Track Repair
Garage Door Safety Inspections
Liftmaster Garage Door Openers
Emergency Garage Door Repairs